*** Each Set comes with TWO high quality, super strong gun magnets ***
The Magnetic "Gunmag" Mount (Box Of 2) From Tlo Outdoors Is The Perfect Solution For Practical, Quick, Concealed Gun Storage. Our Gun Magnets Are Made Of The Highest Quality Neodymium Magnets With The Ability To Hold Up To 25 Pounds. The Magnet Is Covered With A Specialized Rubber Coating To Prevent Your Guns Or Ammo Magazines From Being Scratched When Attached.


Dimensions & Weight: 2.75 In (L) X 1 In (H) X 1.25 In (W), And 3.6 Ounces (Each).

Usage

• Install In The Location Of Your Choice Such As On The Inside Of Vehicle's Center Console, Under A Desk, Coffee Table, On The Side Boards Headboard Of Bed, Side Of Dresser, Etc
• Install In Closet Or Safe To Attach Your Handguns To The Mount Or Easily Attach Your Ammo Magazines. Use As Magnetic Gun Or Ammo Magazine Storage Or As A Part Of Your Tactical Wall.
• The Magnetic Mount Can Also Be Used To Mount And Display Knives, Or Tools.

Safety!

Tlo's Exclusive Safety Clip Is A Cylinder Shaped Attachment To Our Gun Magnets That Allow Attachment Of A Metal Ring & Optional Trigger Guard Lanyard. This Was Developed In Cooperation With Federal Law Enforcement & Training Staff. 
In The Box

• 2 Tlo Magnetic "Gunmag" Mounts
• Instruction Sheet With 15% Tlo Member Discount Code
• Mounting Hardware & Metal Ring Attachments To Attach To Safety Cylinder Clip


Safety & Legal Disclaimer:

It Is The End User's Sole Responsibility To Take All Safety Precautions In Using This Magnetic Mount, And End User/Customer Assumes All Risk. We Recommend Trigger Guards And Usage Of Our Exclusive Safety Cylinder Clip. More Safety Details Enclosed In Packaging.

Lifetime Warranty:

If Your Device Fails, Is Damaged, Or If You Are Unhappy With Your Purchase, Return It For A Full Refund, No Questions Asked.
The TLO Promise:
Customer Satisfaction Guaranteed
Fast Shipping
Most orders placed before 12 Noon (EST) ship same day and FREE SHIPPING on orders $50+
Easy Returns
No-Hassle Returns for 30 days from your purchase date.
Customer Service
TLO is a family-owned, American small business in GA. We treat you right.
Customer Reviews
89
reviewers would recommend this product
Write a Review
Ask a Question
06/22/2020
Great item!
It did exactly what it said it would do. My husband loved the first set that I bought him, he wanted me to order a second one.
10/16/2019
Birthday gift for a man that has most anything he wants
I bought these for my dad for his bday after I had purchased them for myself and my husband. Love the sturdiness of them and how well they work
06/01/2019
Great Magnet!!!
Great magnets for the price!!! They hold my smaller fully loaded Glock 43 just as good as it hold my loaded full size Glock 19x with a pulse 5 extension. Definitely recommended to anyone looking for a magnet for their vehicle.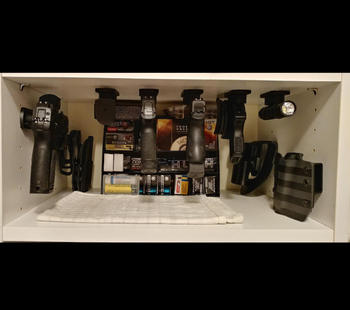 12/22/2018
Nicely made
Used these to hold my handguns on the bottom of a shelf in my closet. Strong and nicely designed, covered in plastic to protect the guns
09/15/2018
Very Nice
installing so easy size good i have a Gun vault but this is so much quicker to get to if need-it to Gun vault will be going in car now So I recommend this item
06/20/2018
hasn't moved and is out of sight!
So far these have been great! Now I haven't gone off road or taken any Dukes of Hazzard style jumps, but I sure pushed on it with my leg to see what would happen, and it snapped right back in place every time I have tried. Other than maybe covering the magnet with a piece of felt or something similar this has worked wonderfully for me!
03/13/2023
I recommend this product
TLO Tactical Gun Magnet Mounts 2
I like them a lot, I use them in different ways to hold my different guns Infact Im here to order more.
Gary L.

United States
01/31/2023
I recommend this product
gun magnets
Excellent. Before I permanently mounted them I fastened them to a board and hug a 1911 and 2 mags on them .24 hours later they hadn't moved Excellent Product. !!
THOMAS B.

United States
01/11/2023
Versatile and works perfectly.
In Texas if used in your vehicle, the fasteners are definitely needed in addition to the 3M tape.\
12/12/2022
I recommend this product
Happy
Very good. Do you have the slide trigger guards for a Sig P365? That is the pistol that I will use with the mounts. I purchased the mounts because I know an ex police officer that had bought them and liked them.
Kenneth K.

United States
Hi Kenneth, we are so happy you love the magnets. You'd want the Raven Vanguard 2, but it's out of stock at the moment ... you can check our store for it to restock by searching "Raven Vanguard P365"
12/03/2022
Super strong magnet
The magnet is super strong, which is awesome to hold more weight. I was hoping to not have to use the screws on my new car to mount it and just use the tape but the tape doesnt hold as strong as the magnet. After mounting with just the tape, when the pistol was close enough to grab the magnet, the magnet jumped off from under my dash straight to my gun. In laughter of how strong this magnet is, i will have to try some stronger tape before i drill holes in my new car.
10/30/2022
I recommend this product
Great Product
Easy to install and secure hold.
Samantha H.

United States
09/03/2022
Worked well for me
Purchased to hold a small .380 and it works perfectly. Tried to use adhesive but finally just used included screws to secure to vehicle interior. Have had no issues.
07/12/2022
I recommend this product
Gun magnets
Great product, quick delivery
Ernie K.

United States
06/22/2022
works
Great for hiding your gun for when you need it. holds well.
05/31/2022
Need the screws
I was hoping to not need the screws & only using the adhesive pads. They worked for a while but then gave in. With the screws...no problem!
04/19/2022
Just what I was looking for
These seem to be made very sturdy. The secure all of my pistols where I want them. One of my pistols has a rounded top so securing from the top didn't work out. That being said it was at no fault of the holster.
03/28/2022
Needs to be stronger in magnetism
Product came in on time but I was a little disappointed with it. Not strong enough for my Glock 23. It will hold my Model 42 which is much lighter. Kind of sad though. Magnet needs to be stronger. I have it attached in my house but I wouldn't want it my car for fear of pistol falling off.
03/14/2022
Product was unable to hold my Glock 22 with full magazine.
Not worth the money.
03/13/2022
Will be buying more.
I really like the quality especially for the price. I will be buying more in the future. Definitely would recommend them to anyone who needs a good spot to hide hole punchers around the house.