TrophyTracker Trail Cam Viewer and Hunting SD Card Reader
TrophyTracker Trail Camera Card Reader Features:
Instantly view the trail cam pictures and videos from your hunting trail camera SD memory cards

iPhone SD Card Reader and Android, USB Tablets with Lightning, USB-C, USB, and MicroUSB connectors

Compatible trail cams like Moultrie, Wildgame Innovations, Spypoint , Browning, Muddy, Bushnell, etc

Apple iOs users can use free app to view, edit, or share your trophy hunting game card pictures.

Trail cam viewer's compact design with durable carrying case is great for hunting accessories gifts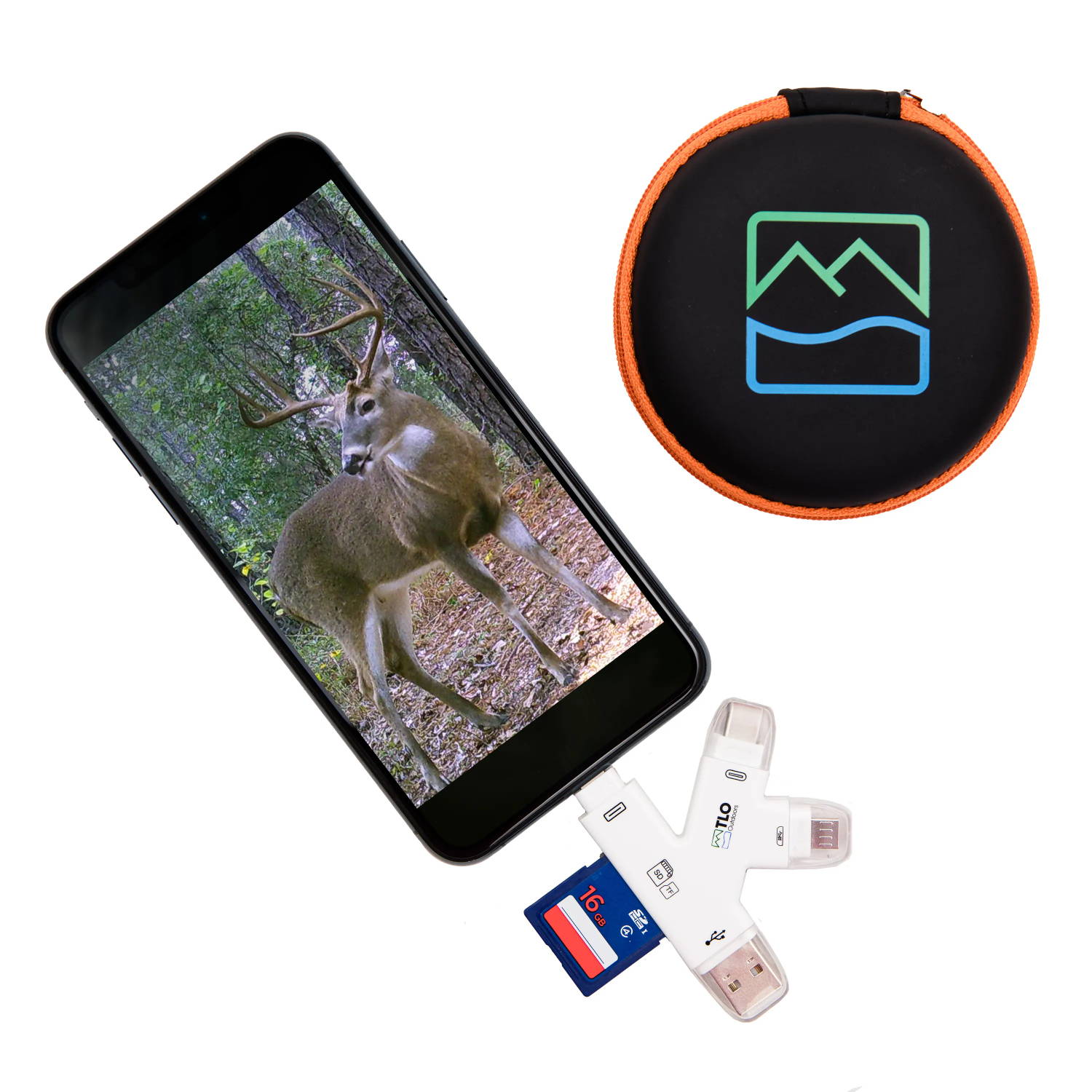 TrophyTracker Trail Camera SD Card Reader Description:

View, Edit, Delete, Share - Stop Swapping your Trail Cam SD Memory Cards and View Your Photos and Videos Immediately in the Woods!
TLO Outdoors' TrophyTracker trail camera card viewer for iPhone, Android, and USB devices is the PERFECT HUNTING ACCESSORY for hunters to view their trail cam photos. The LIGHTWEIGHT DEVICE fits in your pocket or bag and turns your iPhone, mobile device, or iPad, into an INSTANT TRAIL CAMERA VIEWER and SD Memory Card Reader.
It is compatible with all major hunting game trail cameras such as Moultrie, Wildgame Innovations, Spypoint , Browning, Muddy, Bushnell, Cuddie Back, Tasco, Muddy, Boneview, and more.
Plug the TrophyTracker SD card viewer into your iPhone, Android, or device. The free I-Flash Device app (for IOS Devices) or QuickPic Gallery app (for Android devices) will launch and give INSTANT ACCESS to your trail cam pictures and videos. You can VIEW, ZOOM, SAVE, SHARE, or DELETE your wild game pictures. Hunters can check their cameras instantly or can take the SD card and view their pics on the deer stand or in the hunting blind.
TLO Outdoors' new 2020 Version 3 Release has been completely redesigned and features connection adapters for USB, MicroUSB, Lightning (for older iPhone card reader and iOS devices) and the newer USB-C connection. Our TrophyTracker also includes a lightning extension connector for iPhones with thick cases that prevent the game camera reader from inserting into the port.
The TrophyTracker includes a PROTECTIVE TRAVEL CASE. This case zips up quickly and easily and includes a mesh pocket to hold your SD/MicroSD cards for your cameras.
COMPATIBLE WITH: iPhones, iPads, tablets, devices with: USB, MicroUSB, USB-C, Lightning (free viewing app for IOS or Android required, no app required for USB) COMMUNITY: The TrophyTracker Trail Camera Reader is one of many products from TLO Outdoors, a brand committed to providing hunting and tactical accessories. The TrophyTracker allows you to easily share your hunting pictures and videos with the TLO Outdoors community consisting of tens of thousands of fans sharing #tlofanpics.
At this time I will not write a review. I have not been able to get the card reader to function with my android phone.
If you can assist with this problem it would be great.
Thank You Les
Works great!
Looking for one that plugged into my phone, very convenient and easy to use!
Works great!
Looking for one that plugged into my phone, very convenient and easy to use!
Great deal
Worked great my hunting area is 18 miles from the house and has no cell service
Trophy Tracker SD Memory Card Viewer
I purchased the viewer to review the SD card in my Dash Camera on my I phone . It worked like a charm and the video was clear as a bell. I'm very pleased with my purchase and would highly recommended this item to anyone interested. Dealing with TLO Outdoors was a pleasure. They were polite and very accommodating. The transaction went smooth and delivery was prompt. Thanks.
Memory card reader
Great! Just what I needed 👌No problems
Top buy
Once I got it through my head that I was using a blank Sd card it worked easily. Great product!
Expectations surpassed
Very easy to use. Period.
Great product
Could not ask for anything better and the price was better than anything on the market. And quality could not have been better. Great product and great service.
Thank you.
Thanks, Billy! Yeah, last night I was sitting in the deer stand with my 16yo daughter - it was her first hunt. While she was climbing into the stand and getting settled I grabbed the SD card out of the trail camera at our stand. I said to her 'let's see if there's been any action around here' and plugged it into my iPhone and started browsing pics of deer who had been there in the past 24 hours, she got really excited!
The TLO Promise:
Customer Satisfaction Guaranteed
Fast Shipping
Most orders placed before 12 Noon (EST) ship same day and FREE SHIPPING on orders $50+
Easy Returns
No-Hassle Returns for 30 days from your purchase date.
Customer Service
TLO is a family-owned, American small business in GA. We treat you right.