TrophyTracker Trail Cam Viewer and Hunting SD Card Reader
TrophyTracker Trail Camera Card Reader Features:
Instantly view the trail cam pictures and videos from your hunting trail camera SD memory cards

iPhone SD Card Reader and Android, USB Tablets with Lightning, USB-C, USB, and MicroUSB connectors

Compatible trail cams like Moultrie, Wildgame Innovations, Spypoint , Browning, Muddy, Bushnell, etc

Apple iOs users can use free app to view, edit, or share your trophy hunting game card pictures.

Trail cam viewer's compact design with durable carrying case is great for hunting accessories gifts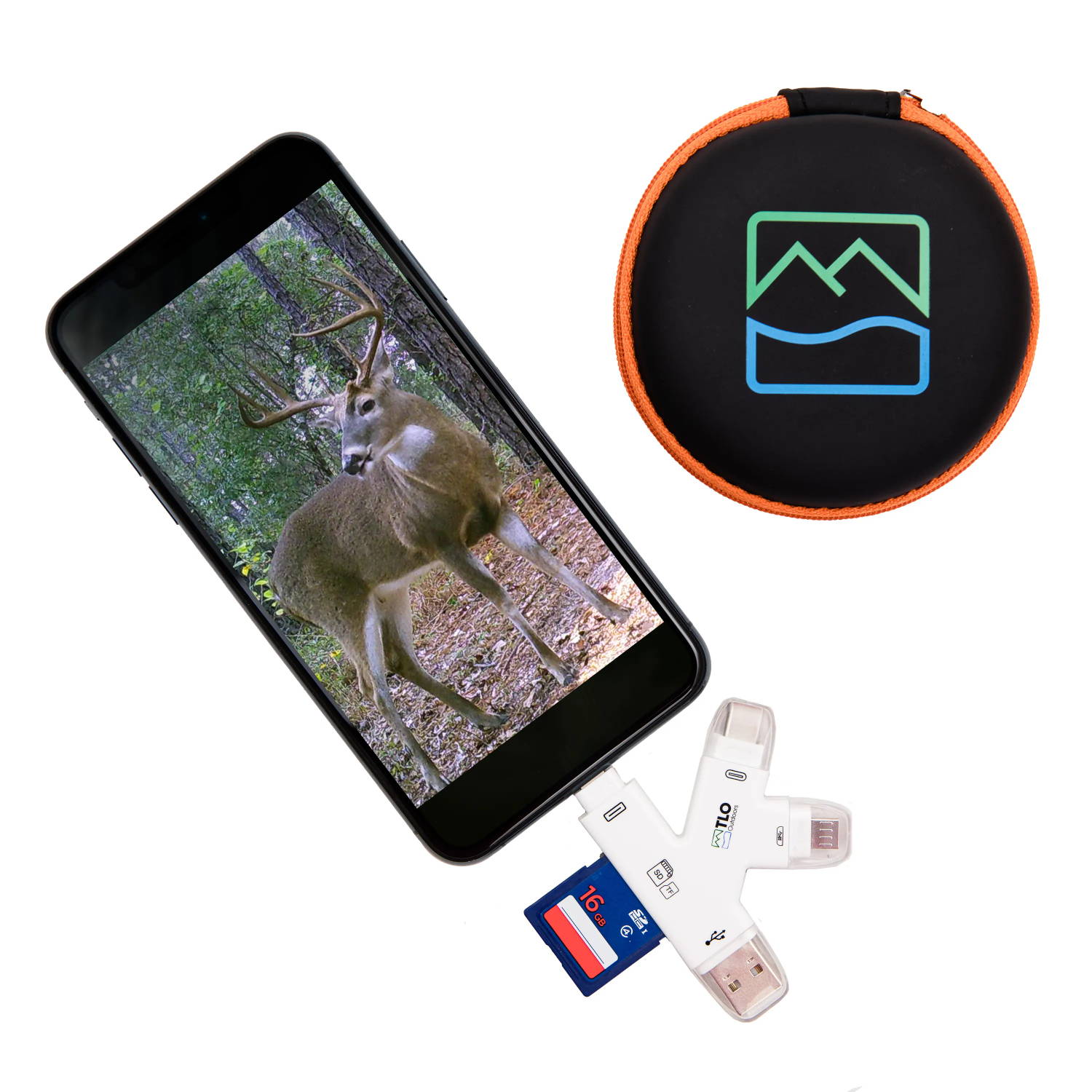 TrophyTracker Trail Camera SD Card Reader Description:

View, Edit, Delete, Share - Stop Swapping your Trail Cam SD Memory Cards and View Your Photos and Videos Immediately in the Woods!
TLO Outdoors' TrophyTracker trail camera card viewer for iPhone, Android, and USB devices is the PERFECT HUNTING ACCESSORY for hunters to view their trail cam photos. The LIGHTWEIGHT DEVICE fits in your pocket or bag and turns your iPhone, mobile device, or iPad, into an INSTANT TRAIL CAMERA VIEWER and SD Memory Card Reader.
It is compatible with all major hunting game trail cameras such as Moultrie, Wildgame Innovations, Spypoint , Browning, Muddy, Bushnell, Cuddie Back, Tasco, Muddy, Boneview, and more.
Plug the TrophyTracker SD card viewer into your iPhone, Android, or device. The free I-Flash Device app (for IOS Devices) or QuickPic Gallery app (for Android devices) will launch and give INSTANT ACCESS to your trail cam pictures and videos. You can VIEW, ZOOM, SAVE, SHARE, or DELETE your wild game pictures. Hunters can check their cameras instantly or can take the SD card and view their pics on the deer stand or in the hunting blind.
TLO Outdoors' new 2020 Version 3 Release has been completely redesigned and features connection adapters for USB, MicroUSB, Lightning (for older iPhone card reader and iOS devices) and the newer USB-C connection. Our TrophyTracker also includes a lightning extension connector for iPhones with thick cases that prevent the game camera reader from inserting into the port.
The TrophyTracker includes a PROTECTIVE TRAVEL CASE. This case zips up quickly and easily and includes a mesh pocket to hold your SD/MicroSD cards for your cameras.
COMPATIBLE WITH: iPhones, iPads, tablets, devices with: USB, MicroUSB, USB-C, Lightning (free viewing app for IOS or Android required, no app required for USB) COMMUNITY: The TrophyTracker Trail Camera Reader is one of many products from TLO Outdoors, a brand committed to providing hunting and tactical accessories. The TrophyTracker allows you to easily share your hunting pictures and videos with the TLO Outdoors community consisting of tens of thousands of fans sharing #tlofanpics.
The TLO Promise:
Customer Satisfaction Guaranteed
Fast Shipping
Most orders placed before 12 Noon (EST) ship same day and FREE SHIPPING on orders $25+
Easy Returns
No-Hassle Returns for 30 days from your purchase date.
Customer Service
TLO is a family-owned, American small business in GA. We treat you right.
Customer Reviews
Write a Review
Ask a Question
09/13/2018
Five Stars
Works perfect! will probably by more
08/10/2018
The new one is much better but still has some of the same issues
I first purchased the first version and it didn't work very as expected. I did receive an email from TLO and they replaced it for free. The new one is much better but still has some of the same issues. For me when I plug it into my iPhone it doesn't allows load the first time and need to take it out and plug it back in for it to work. Much better than first version but still not perfect. Pictures are good quality and easy to sent via text or email.
07/01/2018
Not just for trail cameras, of course...works great for everything!
This isn't just a trail camera viewer. It is a complete SD/MicroSD/TransFlash read/write slot for PC USB, Android, and Apple iPad/iPhone Lightning ports. Of course it works excellently for its originally stated purpose if you don't want to do anything else with it! For Android or a PC you plug it in and use whatever software you prefer to browse the card and view/work with files. Android and popular computer operating systems will prompt you or open a program for you. For iOS, since Apple doesn't believe in standardized filesystem access, you plug it in to your iPad or iPhone and iOS will prompt you to install an app called "i-FlashDevice". The app works well, is intuitive, and surprisingly powerful, acting quite effectively as a file manager, media player, etc. It even allows you to backup your iPad/iPhone stuff to the card or use your iPad/iPhone camera or microphone to save directly to the card. This means my iPad is no longer limited to the small amount of memory that Apple thought I should have. I can keep a large library of movies, TV shows, music, or whatever on one or many cards to carry around with me and play wherever I may be, regardless of whether or not internet is available.
07/01/2018
Works well with iPhone 7
Works well with my iPhone 7. I have used it without any problems. The app was easy to set up.
07/01/2018
Works
Takes time to get use to, but does the job. And, from someone who is not tech savvy, directions could be a bit more detailed.
07/01/2018
Great in the field
For anyone that is looking for a "great" in the field tool to help view your trail cam images instantly, this is the product for you.. View,Save,Delete and then put the card back in to continue capturing your images!! You will not be Sorry!!! YnotOutdoors!!
07/01/2018
Works great
Set it up on my I-phone 6S in a couple of clicks! It works great and the pictures are easier to manipulate than a standard card reader. The carry case is rugged and very easily carried afield!!
07/01/2018
works great
Item works great and arrived very quickly. The case makes It easy to keep up with my card reader and sd cards. Thank so much!
07/01/2018
Great on Fall Hunting Trips
I go on a couple of hunting trips every fall and put out trail cameras. This is great to have and works well for what I need. It is compact, easy to pack and I like the case it comes with.
07/01/2018
Husband loves it
Wonderful Customer service, fast shipping great price and my husband really likes the product!
11/02/2021
I recommend this product
Card reader
They work great I can send pictures to my brothers they know where to go we have 5 cam's out.
Allan C.

United States
10/24/2021
I recommend this product
Works great!
Looking for one that plugged into my phone, very convenient and easy to use!
Steve G.

United States
10/24/2021
I recommend this product
Works great!
Looking for one that plugged into my phone, very convenient and easy to use!
Steve G.

United States
10/24/2021
I recommend this product
Not great.
It was touchy for the connection. Then I got it to work but the next day it acted like the software couldn't handle the task of loading videos or pictures. I gave up and used a different type I bought also.
Jeffrey M.

United States
10/23/2021
I recommend this product
Great deal
Worked great my hunting area is 18 miles from the house and has no cell service
Allan C.

United States
10/21/2021
I recommend this product
Haven't used a couple times but if you don't have good reception it's worthless so far works fine in some areas.thats why I gave it a 4 star .
Jonathan M.

United States
08/10/2021
I recommend this product
Thank you for the fast service
I was very pleased for the fast service and how easy it was to order from your web sight . Thank you Johnnie Mills
Johnnie M.

United States
05/15/2021
I recommend this product
Trophy Tracker SD Memory Card Viewer
I purchased the viewer to review the SD card in my Dash Camera on my I phone . It worked like a charm and the video was clear as a bell. I'm very pleased with my purchase and would highly recommended this item to anyone interested. Dealing with TLO Outdoors was a pleasure. They were polite and very accommodating. The transaction went smooth and delivery was prompt. Thanks.
Christopher H.

United States
01/26/2021
I recommend this product
TLO memory card reader
Works as advertised. Set up very easy, straight forward and simple, AS LONG AS YOU FOLLOW DIRECTIONS! No interesting photos or videos as of yet. Have used it on a couple of walks just trying to get comfortable with the operation.
William H.

United States