The TacPack40L from TLO Outdoors is our solution for a high-performance tactical backpack suitable for hunting, hiking, rucking, camping, and traveling. Completely redesigned in 2021, this is a new upgrade to the previous TacPack24 bag.
The TacPack40L offers 40 liters of storage for your trip, hike, hunt, gun range, or ruck. TLO's TacPack series are comparable to similar go bags, bugout rush backpacks. The large main compartment has tons of storage and FEATURES A PADDED SLEEVE that is perfect for a LAPTOP or WEIGHT PLATE, such as a GoRuck or other weight plate. A water bottle pocket was added to the side of the backpack and the heavy duty "grab and go handle" is wrapped with 550-rated survival paracord that matches TLO Outdoors' signature paracord slings.
The TLO Outdoors TacPack Tactical Backpack Series are built with water resistant, durable 600D Oxford fabric and include durable laser etching on the front and MOLLE strap(Modular Lightweight Load-Carrying Equipment) locations. The top of the bags have plenty of velcro to attach your favorite patches. There are numerous pockets and compartments. They are also ideal for professional use for your laptop, tablet, camera, GPS, and accessories.
The hydration sleeve is easily accessible on the back side of the pack allowing the installation of a hydration pack (sold separately). Shoulder straps are padded and contoured for extra comfort and feature a sternum strap that can be adjusted to four different heights. Extra padding on the back panel promotes ventilation and holds the pack securely while you move.
Features:
NUMEROUS individual compartments for storage

(1) smaller upper compartments with separate mesh zipper sleeve

Large front zip down compartment with additional inner zipper compartment, 2 clip on cords, and multiple stow-away compartments

Massive main compartment with 40L of storage, including 2 inner mesh zipper compartments drawstring compartment, and large padded sleeve for laptop or weight plate

(1) zippered fleece-lined top compartment behind handle for eyewear, phone, and accessories

Water Bottle Attachment

Durable "Grab and Go" Easy Grip Handle Wrapped in 550-Rated Survival Paracord

Includes 4 bonus patches!
Video:
Colors:
Multiple colors are available.
TLO warrants our tactical bags for ONE FULL YEAR from date of purchase.
The TLO Promise:
Customer Satisfaction Guaranteed
Fast Shipping
Most orders placed before 12 Noon (EST) ship same day and FREE SHIPPING on orders $25+
Easy Returns
No-Hassle Returns for 30 days from your purchase date.
Customer Service
TLO is a family-owned, American small business in GA. We treat you right.
Customer Reviews
100
reviewers would recommend this product
Write a Review
Ask a Question
07/25/2022
I recommend this product
Great backpack.
This backpack is packed with room, made with really great material and is very durable. Worth every Penny!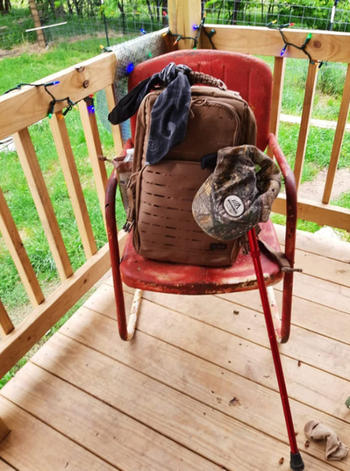 05/04/2022
Good looking bag
This is a nice pack. It's a good mid-range bag. It is difficult to adjust while moving, but it has lots of pockets and lots of webbing to attach stuff to. It's a little too much for a one-day trek, but it would be a good camping or bugout bag. The padding is good, the chest strap is good. The straps on the upper back area were not as comfortable as I like and didn't distribute the weight as well as I wanted but that might be different for someone shaped differently. It looks great.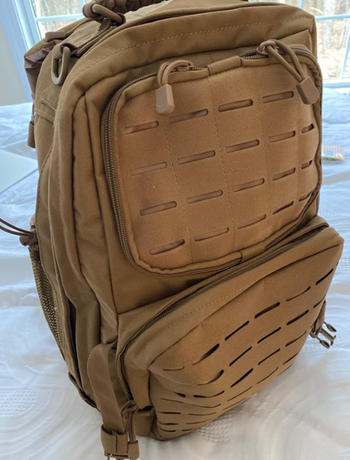 04/13/2022
Quality Backpack!!!
Really nice quality and the zippers are solid! Very durable and versatile. Great price for the quality! This is a great range bag, computer bag and perfect for hiking.
04/12/2022
Okay with a few caveats
I got this backpack because it was taller than my current one, and I wanted a backpack that would allow me to carry my camera with the long lens without having to take the lens off first. My camera and long lens do fit in this pack, so that much is good. But here are the caveats. I'm short (5'3") and the shoulder straps aren't adjustable enough for my size so the pack rides very low. This is uncomfortable because my camera inside ends up weighing me down at about my tailbone level. I do use the belt but that just means that the belt cuts into my hips because it is carrying all the weight at my waist instead of distributing it between my shoulders and waist. THis makes it all very uncomfortable and I can only wear it for short distances. If I could have adjusted the shoulders straps more, I could have achieved better distribution of weight (I think). My other caveat was the molle system webbing. It is composed of fabric that has simply had holes punched into it to resemble the strapping found on a molle system. So far, it's been okay and hasn't ripped or anything so I guess it's not an issue, but it makes me uneasy since it isn't the normal woven straps that I'm used to on my other backpack. The backpack itself does seem fairly well made (except for my concern about the punched fabric replacing the molle webbing) and has protected my gear well during a few light showers. But it is definitely a taller person's backpack. It's not that great for a short person like me.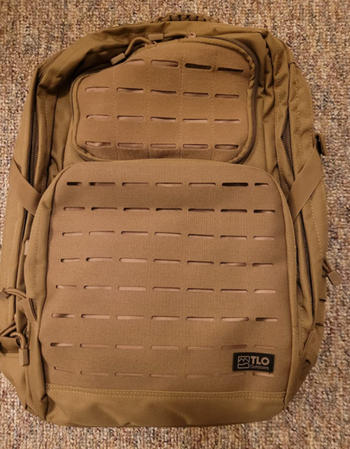 03/31/2022
Great backpack
This bag is very nice. It's very sturdy and made well. This bag also looks great. This bag is also huge and will hold everything you need. I really have no complaints about it.
03/27/2022
Extremely necessary tactical bag
It's made extremely sturdy with quality material. Lots of pockets & plenty of MOLLE for additions. Great value. Highly recommended
03/23/2022
Rugged and Well Built
This pack is very well designed and built. Many features and storage compartments, even a place for a laptop. Water resistant not waterproof, but to get total waterproofing in any backpack, you'd need a dry sack. This backpack is as good as packs costing 3 times more. The fabric is very thick Gortex, stitching is well done throughout.
03/10/2022
The TLO Outdoors TacPack40L Tactical Backpack is just really really good...
The TLO Outdoors TacPack40L Tactical Backpack is just really really good... While there are a few things I would change this is a very high quality backpack. A whole lot of compartments on the front, back, insides, left and right sides and even on the top. I also got the 24L version of this backpack and I was more impressed with that version than I am with this version, while this version has the addition of a belt (for around the waist) assembly the 24L version in my opinion is better overall. Both the 24L nd 40L makes for an amazing heavy duty backpack. If you take care of this equipment it has the ability to last a very long time. Thumbs up. Good day & God Bless... Randall M. Rueff K9RMR
02/15/2021
I recommend this product
Very nice pack.
So far the back pack is living up to expectations. Went with the bigger size and it's more than needed but worth it.
Matthew M.

United States
02/14/2021
I recommend this product
TacPack24 Tactical Backpack
Excellent item, very sturdy, lots of room & lots of pockets! I get so many compliments
Teri A.

United States
02/12/2021
I recommend this product
Backpack
High quality and what I thought I was getting but first time I used side zipper it busted so pretty disappointed in zipper quality
Sinjin M.

United States
02/03/2021
I recommend this product
Purchase
Very pleased with bag, was bummed thought I didn't order the one with the free velcro patches but as I was doing my looking in all the compartments I did find them. Lots of storage an just a great buy.
Brandon B.

United States
02/02/2021
I recommend this product
Great book bag
Awesome. Lots of space and looks nice.
Alexander V.

United States
01/27/2021
I recommend this product
Awesome Bag
This bag is perfect. I put all my gear from another bag and it all fit and it seems lighter
Larry L.

United States
01/20/2021
I recommend this product
Nice pack
A great pack at a super discount which made it even better!!
Chad E.

United States
01/15/2021
wow
I just got this bag and I am impressed. It has lots of pockets and room. I was using a sog ninja backpack. This is a great upgrade.
11/18/2020
EXCELLENT .!!!
Excellent backpack .!!
11/04/2020
I recommend this product
Great bag!
Very pleased with the quality and workmanship of the pack. It's exactly what I was looking for. The 2 side pouches are perfect for my water bottles, Thanks for the quick delivery!
Robert W.

United States
11/04/2020
I recommend this product
Nice bag so far
Got it quickly. Military discount. Looks nice.
Joshua W.

United States
10/07/2020
I recommend this product
Great backpack
My husband loved his bday surprise. Starting a new job and need something with lots of storage. This is it. It has a pocket for everything
Carrie R.

United States